"One more season!" says newly appointed Red Devils captain Anton Purver, but it's never just one more season.
He considered 100 games in the NZIHL to be a tremendous achievement; now, we catch up with him on the eve of his 200th game and take a moment to reflect on all his journey in the NZIHL over the last 15 years.
What fuels this athlete to keep playing hockey at the highest level in New Zealand? For Anton, it's the pride of representing Canterbury. "I don't want to give up that feeling," he says, "ice hockey is my passion; it's hard to walk away from passion."
Passion was evident as he shared his experiences. A walking encyclopaedia of NZIHL history, he recalls players past and present and what he has learnt from them, nearly categorically by year and team. One of his highlights is being able to train alongside and compete with incredibly talented athletes.
"Chris Eaden has always stood out. We'd get imports, and they wouldn't match up to Chris." Jake Ratcliff, Jacob Carey, Ross Venus, Robbie Banks, Dan Nicholls – Anton rattles off a list of memorable players as he acknowledges their input in helping him become the player he is, and we can barely keep up with the names. Anton's passion for the game is beaming as he shares the stats and records of these players from memory.
The Canterbury Red Devils have made their way to 6 play-offs, lifting the Birgel cup 4 times, including a 3-peat from 2012-2014. Anton recalls how monumental these championship wins have been for him and the Red Devils. An obvious highlight in this player's career, but it was more about the journey to these wins than the wins themselves. "The expectation you put on yourself and your team in these situations is different to a regular game. For those three years, our team was inseparable. We wanted to be together. It was a unique experience to be a part of the camaraderie of those teams, we put in the work all season, and the championship felt like a reward for that teamwork."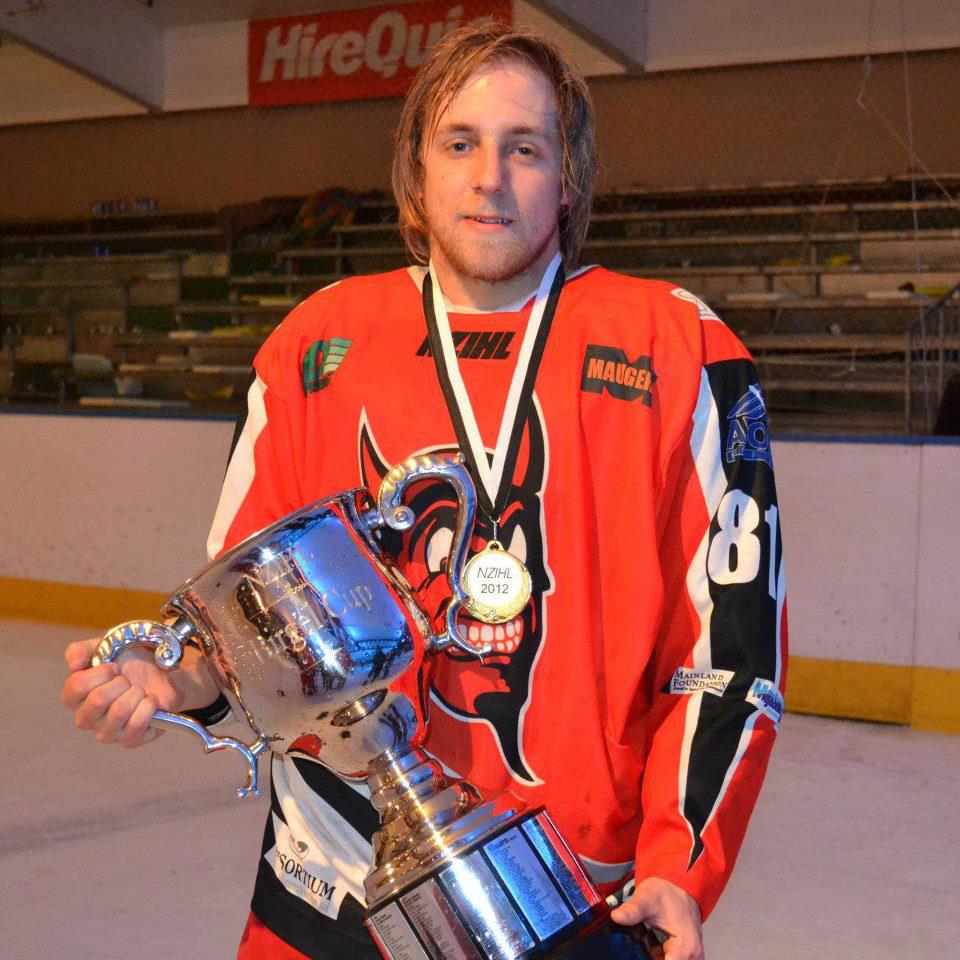 The Red Devils have gone through a transitional rebuilding period. So, what was the reason for the rebuild? After the preseason victories against the Phoenix Thunder and the very tight game against the SkyCity Stampede, it is evident that the Devils are a force to be reckoned with in 2022, signalling that the team is now at full strength again.
"We had a lot of impact players leave the team after the 2014 championship. Harrop, Lane, Speck, Nicholls, Coleman – we had a strong core, and for various reasons, they moved on. So for us, it was a literal rebuild of players. If you took Chris and me out of the group, we had an age average of 19 for several years. We had personnel changes, I guess." Admitting that it was a challenging process, Anton's pride in what the Devils have achieved is apparent. "We were fatigued, but we stuck at it. The young players got development ice, and young players like Liam Dallimore, Jacob Carey, Graham Matheson, and Luke Tappin are now fan favourites and important players for our team."
It hasn't always been an easy ride for Anton. He reflects on what it was like at 15 when he started playing – competing with kids his age who had been skating for nearly ten years more than him was difficult. His advice to others in this predicament? Skate anyway. "Anyone who wants to play, play. If you love to play, play. Do anything you can to be on the ice." Anton says that one of the best things he can tell young athletes is to be present at training, soak in all the knowledge from the top players around them, ask questions and be curious about how they play. "You'll learn more from them than you realise," says Anton.
So, where does Anton want to see the NZIHL in the future? "Exactly where it's going," says Anton. "A.J. Spiller and Justin Daigle are working with the New Zealand Ice Hockey Federation to bring training camps to all the centres around New Zealand, and we can already see the improvements of local athletes." Coaching is where Anton wants to go after he retires from competitive hockey; already coaching one season in Germany, Anton is excited for an opportunity to join A.J and Justin.
Anton wants to thank Graham Tappin and Neil Carey for all their work for the Red Devils, especially over the last three years. "They go above and beyond for this team. We have a pretty good front office!"
"2022 will be the most exciting year in the NZIHL. The teams look like they will be in close competition."
Featured image thanks to James Allan Photography