So, you're a fan of the NZIHL? We can guarantee that Matt Schneider is on your list of favourite players, even if the Skycity Stampede is not your home team. Standing tall at a staggering 2m, he stands out enough – but add that to his exquisite skating skills and flawless manoeuvres, it is no wonder that Matt has become one of New Zealand's standout players.
Matt announced he wasn't playing the 2022 season, but does that signal the end of a decorated career for the athlete? We won't leave you in suspense because if you're anything like us, the heart can only take so much – Matt assures us, this is a gap year, and the reason, well, it's a goodie!
On May 21, Matt and his wife, Rose, are headed back to Rose's home country, Vietnam – for the birth of baby Schneider. Congratulations to the lovely couple on this excellent news.
While Matt professes his Vietnamese leaves a lot to be desired, he has figured out novel ways to communicate, which may or may not include some charades.
So, how did Matt burst into the hockey scene initially?
After completing his university studies and (irrationally) thought his competitive hockey career had ended, the NHL draft pick moved to New Zealand. Specifically, to Marlborough to pursue a career in viticulture. One day, call it fate, Matt began chatting with a visitor to the region about ice hockey; Matt quickly admitted that he didn't even realise New Zealand had a league at that stage. Figuring he had one year left in New Zealand, he would head somewhere where the scenes were spectacular and play a season – Queenstown was calling. More than a decade later, Matt never entirely went home. Instead, he decided to call New Zealand home.
2012, Matt's debut year for the Stampede, scoring eight goals in 8 games. He immediately gained the attention of players and fans. As the records stand, Matt has scored an eyewatering 161 goals and 163 assists in 137 games, accumulating 324 points in total. Matt also led the Stampede to victory four times over, lifting the Birgel cup in 2015, 2016, 2017 and 2019. Winning the Birgel Cup is one of Matt's favourite moments from the league, noting that the 2016 final against the Canterbury Red Devils was the best hockey he has played in New Zealand. "Getting my New Zealand citizenship and representing New Zealand at the World Championships was a unique experience. I thought I would never get the chance to do that, and it's something Kiwis can often take for granted."
Originally from Canada, this humble colossus is used to ice hockey being an immersive experience, where your next opportunity is right around the corner. In New Zealand, ice hockey is still a minority sport, and with that, growth opportunities are limited. Still, Matt recognised that the skill of Kiwi players has steadily built over the years, shouting out some of our talented young Kiwi players: Jacob Carey, Jacob Ratcliff and Tallulah Bryant, in particular, who are all holding their own overseas.
"Don't settle for the boundaries of New Zealand if a hockey career is something you want to pursue, go overseas, go chase down the opportunity" this is advice Matt has for young players. In the hope that when they return to New Zealand, they bring the skills they have learnt and share them with aspiring athletes to build our hockey capabilities from the inside.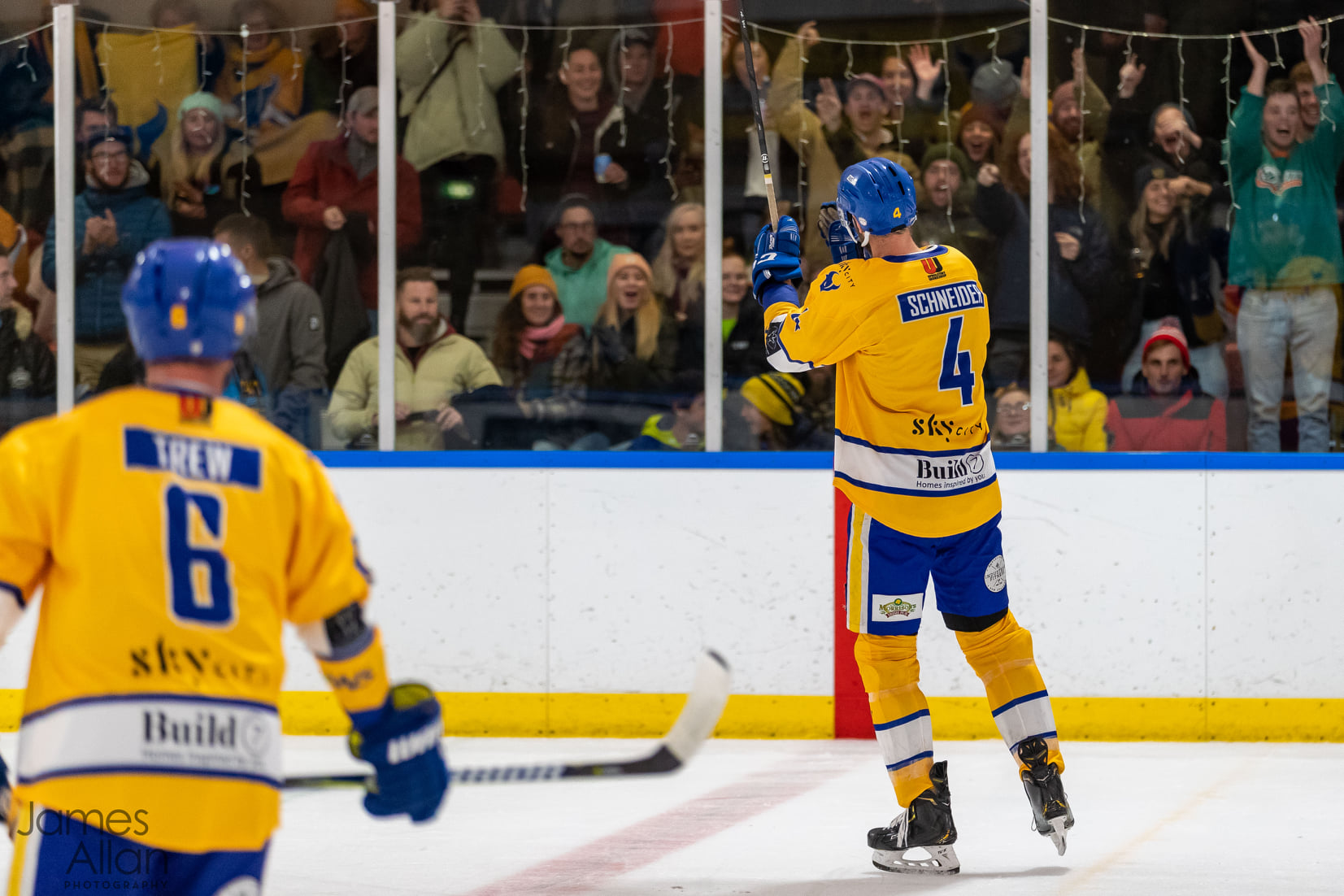 Matt's hope for the NZIHL is to 'see it expand as much as possible'. As the players' skills build, investment into the league is coming at the right time.
"The (NZIHF) Federation are working hard to bring the game up, which is good". Matt is passionate about raising ice hockey as a whole in NZ. From business models, training of officials, rink infrastructure, and supporting local clubs to develop coaches, bringing the nation in line with the dominant ice hockey countries.
So, as this is not a retirement announcement, we look forward to welcoming Matt, Rose and Baby Schneider back to Aotearoa soon and having this hockey legend more involved with the strategies for growing ice hockey from the grassroots in New Zealand.
Featured image by Kea Photos