We caught up with Paris in Dunedin to chat about his decision to retire from competitive hockey and find out what he intends to do next.
If you play or watch ice hockey in New Zealand, then there is every chance that Paris Heyd is a household name for you. His skill, achievements, accolades, and leadership qualities make him an all-around favorite with fans and players alike. For the past ten years, Paris has called Dunedin and the Thunder home – Dunedin is where his journey began and where he decided to hang up his competitive skates, but this hockey legend has skated all over the world.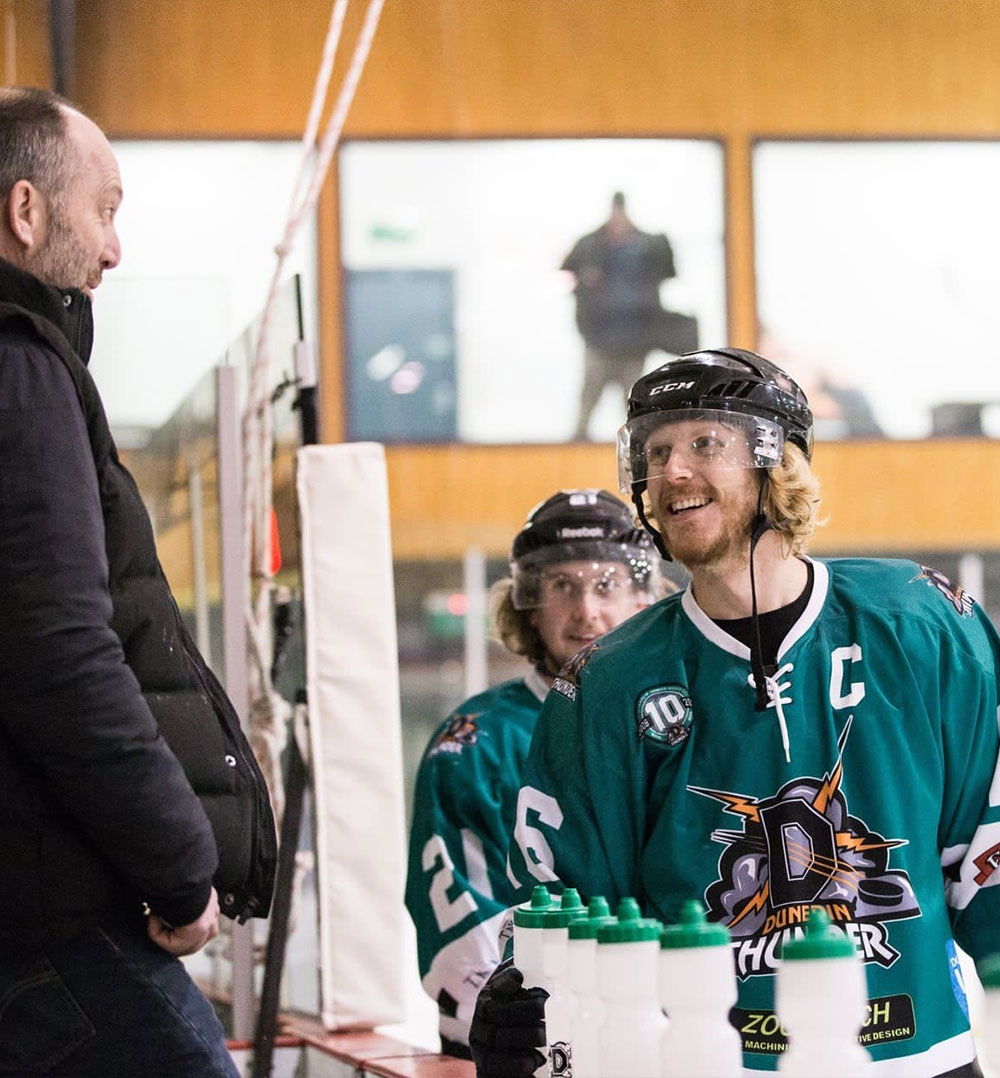 Hailing from a family with a love of ice sports, it was no surprise he ended up following this passion. Instrumental in the development of the Alexandra rink in Central Otago, his family spent many years both at the rink and the Manorburn Dam.
At 10 years old, Paris was living in Christchurch. He played most of his minor hockey for Canterbury, including playing for the Red Devils before going to Canada.
Paris attended Harrington College on the outskirts of Montreal for three years. Harrington no longer exists but it was one of the earlier hockey schools which have now become commonplace in Canada. Bouncing from winter to winter, Paris decided to move back to Dunedin in 2010 to enroll at university. In 2010, the Thunder was just 2 years old, and Paris brought with him skills and experience that the team needed.
In 2011/12, an opportunity arose when the Thunder had a coach visit from France. Paris was invited to play semi-professional hockey in France for the Cergy Jokers, based on the outskirts of Paris. Paris in Paris became a fun riddle for friends and teammates, but this did lead them to call him more often by his first name, Gino.
Being a part of the Thunder has meant a lot to Paris. He grew up alongside the team and teammates. As they faced challenges of being a 'new' team, they faced them together while trying to build respect from the rest of the league.
"…Seeing a full rink in Dunedin for a Thunder game" is a proud moment for Paris. Having games where there would be 50 people, all friends and family of players, was where the team, much like many of the NZIHL teams, began. Now, they are selling out games with fans with no links to the players, genuine hockey-loving fans.
Quickly, Paris became a loved, admired, and staple member of the Thunder. He captained the side for several years and while the identity of the team is well established, we can't help but wonder now what that will look like without him. While his skates might be drying now, he is never far from the ice.
We caught up with Paris in-between coaching sessions, learn to play with the 5-year-olds had his hands full. Laughter and frustrated grunts echoed across the ice from the youngsters as Paris effortlessly blocked their goal attempts. A natural transition from playing to coaching, Paris has changed lane but not pace. Building ice sports in Dunedin is a passion project for Paris, who is also the general manager of the Dunedin Ice Stadium. "I think seeing the growth and following of hockey in Dunedin" is one of the milestones that Paris is most proud of. "It has taken time and input from many people but the numbers that come to watch games today compared to 10 years ago are not comparable, and that is the same throughout NZ."
Paris's opinion is sought regarding the planning of hockey in New Zealand. So, we asked him what he would consider pivotal to the future growth of the sport here and for him, it's a simple solution: get the next generation to fall in love with the sport as early as possible.
"It is a sport that is definitely getting traction, some regions more than others. More people are watching and following hockey. The social aspect of playing is a huge drawcard that is reflective of the growth of the social senior leagues across the country. I think the pivotal thing now is to keep growing our youth programs in all the centers, especially in the 5-10-year-old range. Building a love of hockey at a young age is important for the long-term growth and success of hockey. Those 5-10-year-olds that begin now are the foundation for all future NZIHL, NZWIHL, and National Teams."
The best advice he received from a coach? "The fewer penalties you take the more time you will have on the ice. it took a long time for that one to sink in, but I like to think I got there in the end."
So, what's next for Paris? This plan is still a work in progress but, Paris has his hands full with managing the Dunedin Ice Stadium and growing ice sports in Dunedin. As one of New Zealand's most decorated ice hockey athletes, the impact he has had on the sport and league has been enormous. We look forward to seeing Paris flourish as a hockey coach & grateful to continue to have his support.
In summary:
Years in the NZIHL: 15
World Championships attended: 9
Total NZIHL games: 203
Total NZIHL points: 363
Total NZIHL goals: 174
Career highlights:
NZIHL champion (2005, 2009)
NZIHL League MVP (2011, 2018)
World Championship Silver Medal (2011, 2013, 2015, 2017, 2018)
World Championship Bronze Medal (2019)
World Championship Top Player on Team (2017)
Auckland Mako Mentor Player (2021)
U20 World Championship – Most Penalized Player (2010)
Thunder records held: Most games played, all-time goals, all-time assists, all-time points per season
Questions for Paris asked by fans on Instagram:
Q: Are you planning on leaving NZ?
No
Q: will you continue to skate?
For as long as I can walk
Q: If you changed your mind, would you still play for Thunder?
If they will have me back!
Q: Is this a hiatus or a permanent decision?
This sounds like a trick question.
Q: Not a question, just want to say thanks for being a good watch! We love watching you skate.
And Noah Gregory would like to know "Who is your favorite player in the Thunder, and why is it Noah??"
"Who?" (Got to love teammate banter, huh?)
Featured image supplied by James Allan Photography
Additional images by Kea Photos and Phoenix Thunder