We all know Colin McIntosh. Skycity Stampede #91, currently ranked third overall in the NZIHL points standings, and coach of the New Zealand Women's Ice Hockey League's Wakatipu Wild.
But did you know that this dynamic Canadian local graduated with a Bachelor of Science, majoring in Psychology? We caught up with Colin for Mental Health Awareness Week, with an educated and in-depth understanding of psychology, Colin has researched the relationship between concussions and mental health.
Due to the nature of play in ice hockey, concussions are a common occurrence. "Rates of concussion in hockey are among the highest in all contact sports" (Jo, 2003). "More than a decade ago, the NHL led the way in professional sports by adopting post concussion return-to-play protocols and mandating baseline neuropsychologic testing for its athletes." (Lovell, 2002). Players in the NZIHL are screened before the season starts with a baseline concussion test and there is a return to play policy (which can be found at the bottom of this article), but as Colin points out below, there is a lot more to a concussion than what meets the eye. There has now been a copious amount of research done in this area, but there is still a lot to uncover.
Here is what Colin had to say on the matter:
"Depending on the type of injury and the length of recovery, you will see wide-ranging emotions, thoughts, and reactions. For this, and I don't want to diminish any injury or any person's recovery, I'd say concussions are by far the hardest to a) recover from b) get a grip on the mental side effects of it. It's still relatively new to the sports world in terms of legitimizing concussions. They are by far and wide the toughest things I've ever gone through…why? Because nobody can see what's wrong. At first, people don't believe or trust that you're injured, usually, you'll get accused of milking something. They don't know any better…you look normal. There's no cut or swelling or bruising. That's all on the inside that only you can see and feel.
Recovering from a concussion is an ultra-marathon that you haven't trained for. It's not a case of breaking a bone, getting a cast, getting an x-ray to see if it's healed and then rehab. It's a new adventure every day, you don't know if you're going to be better, the same, or worse. You can be A-okay for weeks and then get 1 slip up that will set you back days/weeks/months.
My most recent concussion was a very severe one, had me off skates for around 5-6 months but not back to 100% for closer to 7 or 8 months. For me, my life has been hockey and there was one morning 2 or 3 months in where I woke up and had this thought "what am I without hockey?"…now is that healthy? NO, but that's the reality of the situation.
Depression comes in waves, and you start to question everything, your life, your purpose, your friends, your relationships in life and ultimately your worth. The solution can differ from person to person but talking to someone will always help. If you're a believer like me, prayer is the ultimate tool and can help in even the direst of times. Confide in your friends/family/roommates/partner/doctors/co-workers, the worst thing to do is bottle all those emotions up because they can get the best of you.
Having balance or a pattern/schedule in life can do great things for your mental health. Sleeping, work, exercise, seeing friends/family, dates, personal time…they're all key to having a good head on your shoulders.
Who and what you surround yourself with can and will affect your mental state. Having somewhere you feel safe, invited, welcome, and yourself will do wonders for you. I've been fortunate that throughout my hockey journey in Canada, the USA, Europe, and now NZ that all the teams I've been associated with have had an arms wide open approach and accept me for me."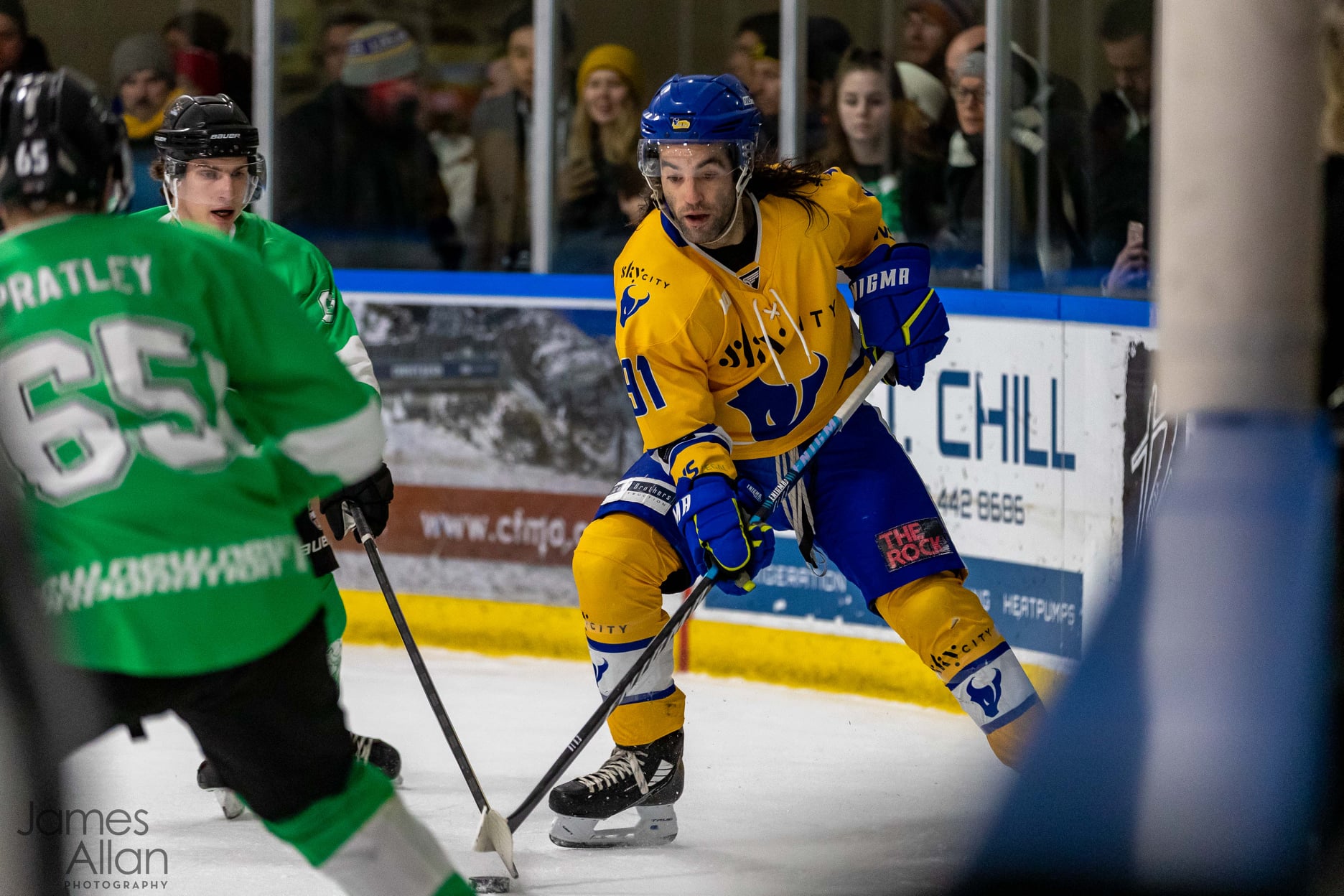 Q&A With Colin McIntosh
Q: Immigration can be tough; how did you cope with your move to New Zealand?
A: "Coming to New Zealand wasn't meant to be long term, but once I got here, I dove head into the community and haven't stopped since. The toughest part coming here was the time difference between here and home, but fortunately, I've been away from home for hockey since I was 18 so the transition wasn't too hard. I'd say one of the biggest things I had to get used to was the price of everything down here. Outside of that, Queenstown has a great hockey community that made it easy to feel at home."
Q: As the coach of many teams in Queenstown, including the Wakatipu Wild, what measures do you put in place to protect your athlete's mental health? More than ever before, young athletes are comparing themselves to unrealistic images and content they see on social media, as a coach – how do you get athletes to focus on 'what's real' when it comes to their sport?
A: "One of the main things I always try to tell any players is that they needn't compare themselves to anybody else on the ice and that it's similar to going to the gym. Sometimes you'll feel less than because you see somebody putting up the weight that you simply can't, or that their physique is something you don't currently have. Everybody is on their journey and no matter what happens, if you go as hard as you can, that's all you can ask. For me, hockey is all about having fun and having a smile while doing it. This doesn't mean that it'll be fun/easy all the time, usually, the best things learned in life are from failure and we must tell the young kids/youth/young adults that it's okay to try something and fail. I've noticed especially coaching the women (Wakatipu Wild) that they soak up everything like sponges. They're always keen to learn and they realize everything said is with their best interests in mind. Long story short, I let the players know that hockey can be one of/if not the best things in their life if they give it time, hard work, or patience.
Q: Can you please share with us a time you have been confronted with situations that may have impacted your mental health and how did you navigate your way through?
A: "For me, I've always been all about hockey and for the longest time, even now, it's what drives me the most. I grew up in Canada, played junior hockey, college hockey (where I studied psychology), played in Europe for years, then made my way down here and with Covid, I haven't been able to play competitive hockey outside the NZIHL since it reared its ugly head ha. There are a few instances that come to mind, when I was playing in Ligue Magnus in France, I was out for 7 days and upon coming back my coach had completely changed his view of me as a player/person. From being a player he relied on, to a player he recommended the manager releasing, it was a whirlwind, to say the least. It got to a point where the manager offered to pay me the rest of the years' salary, my flight home, plus a free transfer to another team if I wanted to leave. I could have sulked, taken the free out and started to question if I could play at that level but I was fortunate to have a great group of teammates there that reassured me that the coach was off his rocker. Needless to say, I stayed and made it my mission to have as much fun as possible and to prove the coach wrong. The worst was the concussion I suffered a couple of years ago. Throughout all the ups and downs I've relied heavily on what I've studied and what I've learned throughout my life."
Q: Do you have any advice for athletes on how to protect their mental health?
A: "I'd say, depending on who's on the other end you can always let them know they can rely on the 3 F's : Family, Faith, Friends. If that's something that wouldn't resonate, I'd say to surround yourself with a great group of people. Enjoy what you do, and don't feel forced to do anything you don't want to or be anybody that you're not."
—
Thank you to Colin for sharing his knowledge and experiences with us. Please remember that it is completely normal to experience mental health episodes, there are toolkits and support networks available for you. We train the body to learn new skills, we can do the same with the mind.
Kia kaha.
---
Resources:

NZIHL Concussion Policy and Important Information https://nzicehockey.co.nz/assets/Uploads/NZIHF-Concussion-Policy-2019.pdf
NHL – Break the Stigma
Break the Ice | Hockey Talks – "Hockey Talks is a program that was inspired by Rick Rypien, former Vancouver Canucks forward, who tragically lost his battle with mental health issues in 2011. Today, 17 NHL clubs participate, sharing resources, stories and breaking the stigma about mental health issues. The Pittsburgh Penguins Foundation proudly became a part of Hockey Talks through our Break the Ice initiative in 2020."
Olympic Committee – Athlete 365 ToolKit
Where to get help:
Healthline 0800 611 116
Lifeline Aotearoa 0800 543 354
Suicide Crisis Helpline: 0508 828 865 (0508 TAUTOKO)
Samaritans 0800 726 666
1737 call or text 1737 to talk anytime 24/7
Alcohol Drug Helpline 0800 787 797
The Depression Helpline 0800 111 757
General mental health inquiries: 0800 44 33 66
Koh JO, Cassidy JD, Watkinson EJ. Incidence of concussion in contact sports: a systematic review of the evidence. Brain Inj 2003; 17:901–17
Lovell MR. The relevance of neuropsychological testing for sports-related head injuries. Curr Sports Med Rep 2002;1:7–11